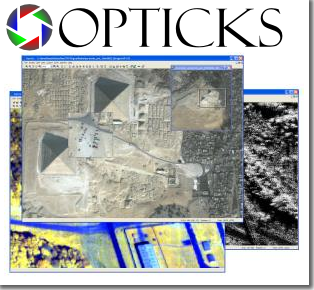 Ball Aerospace & Technologies Corp. telah merilis sebuah  open source software untuk melakukan analisa data remote sensing. Software tersebut diberi nama Opticks. Saat ini, Opticks telah support beragam analysis untuk imagery, motion imagery, synthetic aperture radar, dan multi-spectral serta hyper-spectral remote sensing data.


Opticks juga merupakan remote sensing development framework dengan licensi dibawah LGPL 2.1. Ini berarti para software developers dapat menambahkan fungsi baru atau embed ke dalam aplikasi komersial.
Berikut General Features tentang Opticks:
Zoom, pan, rotate spatially large datasets.
Quickly layer GIS features, annotations, results, and other information over your data to provide context.
Link dataset geographically. Zoom and pan one dataset links to another.
Product mode and annotations.
Active annotations, including North Arrow, East Arrow, Scale Bar, and Timestamp
Many image display controls, such as colormap, histogram, transparency, etc.
User defined video/image processing "plug-ins".
Support for datasets in excess of four gigabytes (64-bit support).
In memory and on disk processing.
Analysts can quickly combine steps using graphical wizards.
Batch processing.
Online Help
Native support for many remote sensing file formats: NITF2.0/2.1, ASPAM/PAR, CGM, DTED, ENVI, Generic RAW, ESRI Shapefile, HDF5, AVI, MPEG, JPEG, GIF, PNG, BMP, TIFF, GeoTIFF.
Connect to Geodatabases with ESRI ArcSDE integration.
Support for Microsoft Windows ( 32-bit and 64-bit ) and Solaris SPARC operating systems.
Motion Imagery and Remote Sensing Video Features:
Pan, zoom, rotate, and geo-referencing spatially large video.
Playback multiple video datasets synchronized by time.
Overlay geographics features and have them georeference per frame, moving as you playback.
Multi-Spectral and Hyper-Spectral Features:
Support for multiple spectral dataset formats including BIP, BSQ, and BIL.
Support for 1000's of spectral bands.
ENVI signature importer.
Principle Component Analysis.
SAR Features:
Native support for complex data.
Display as Phase, Magnitude, In-phase (I), and Quadrature (Q).